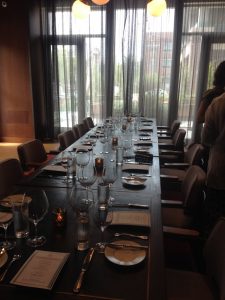 Folio Fine Wine Partners chose a perfect setting – a private dining area of the elegant Swift & Sons restaurant, 1000 W. Fulton in West Loop – to showcase a series of equally elegant luxury wines by Luce della Vite from Italy's Montalcino region. 'Midst a forest of sparkling glasses filled with several iterations of one of Luce's finest wines, attendees did a vertical tasting as representatives from Luce della Vite told the story of how the label – a stylized emblem representing the sun – came to be chosen as a symbol of the winemakers' passionate commitment to quality.
Wines on offer for tasting afterwards included many from the Folio Fine Wine Partners portfolios. To name just a few: 
Attems
, 
Bruno Giacoso
, 
Coppo (our review of 3 of their red wines
), Danzante,
Donnafugata
,
Luce della Vite
, Frescobaldi,
Masseto
, Ornellaia,
Villa Sandi
,
Fillaboa
,
Palacios/Remondo
, and
Vall Llach
.
The
Mondavi
family established Folio Fine Wine Partners in 2004 with the goal of bringing exceptional and distinctive wines to American consumers. Today they act as importers, fine wine agents and as producers of quality wines. They manage a diverse portfolio that spans six countries, three continents, and every premium price point. They work with other family wineries who share their passion for making great wine.
Wine has been the Mondavi family business for four generations. It began with Cesare Mondavi, an Italian immigrant who established a grape growing business in Lodi, California during Prohibition. They put down roots in Napa Valley starting in 1943 when they purchased the historic Charles Krug winery. Cesare's son Robert later started his own winery with Michael, his eldest son. Rober Mondavi Winery helped establish California as the premier wine-growing region it is today. And now the legacy continues with Folio Fine Wine Partners.