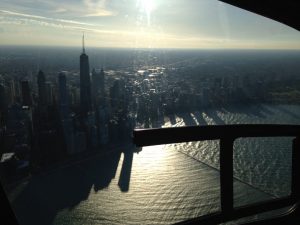 Always wondered what it would be like to ride in a helicopter. Had the vague idea – probably from watching too many shoot-'em-up big-city crime and spy movies – that it would be a wild ride. Loud. Choppy. Rough. Maybe thrilling – if I wasn't too scared.
Guess what? When you ride with the right people, the only adjective you need is thrilling.
Chicago Helicopter Experience
, 2420 S. Halsted, (#CHEtours) is proud and pleased, as one of the only privately owned helicopter heliports in any major US city, to offer anyone the chance to see and feel what it's like. And I gotta tell ya, it's a cool way to celebrate just about any occasion, from a romantic night for two, a quick air transfer to or from O'Hare or Midway Airports – you surely know the horror of gridlock on our highways – to a party for a gang of friends or workmates.
The friendly folks at CHE are passionate about what they do. We felt especially comfortable as we were taken through the strictly enforced safety routines that cover every aspect of each trip – including weighing and assigning seats to every passenger to ensure a perfect balance for a smooth ride. But the #CHEcrew also offers a slew of ways to make your experience fun. You can invite friends and loved ones to enjoy each others' company in the spacious reception area, complete with coffee and cookies and games – like both a regular-size and a jumbo-size Jenga game, checkers and more. And if you've brought a crowd or it's just plain a busy night – the helicopters hold up to six at a time – everybody has time to interact while awaiting their turn. If you want alcohol, drink it before you come, unless you let #CHEtours organize a catered party that includes it.
It might actually be loud riding in a helicopter, but with #CHEtours, you won't notice it. Every rider puts on his/her own pair of Bose headphones that cancel noise and sport voice-activated mics that make it easy to talk to the pilot or fellow passengers. The views from the helicopter are just spectacular. Catching the sun at different angles on the beautiful buildings and landmarks of downtown Chicago and all down the north shore to Wrigley Field (unless there's a game on) is an unforgettable experience. Imagine looking down the Chicago River in a corridor between Chicago's gorgeous skyscrapers. We found most everybody was so entranced with the experience that there wasn't a lot of talking outside the pilot's FAQs on various high points.
The company is on the move. CHE's founder and CEO, Trevor Heffernan, says he founded the company after deciding he was sick of the traffic jams constantly gumming up his trips to visit relatives near Wisconsin. Read more about
what he went through to get his CHE business going in this nice article in the Chicago Tribune
. They're offering lots of exciting options for folks who want to go play golf, say, on a course within a 30-minute helicopter trip but don't want to waste time driving there and back. They're planning to ferry people, too, to an upcoming Goo Goo Dolls concert and to the city's hugely popular Lollapalooza event.
So if you've ever dreamed about riding a helicopter – whether to escape the crazy traffic or to get a fabulously unique view of your city – you can do it in Chicago. Prices start around $150 per person for the 15-minute tour to Wrigley and with many optional add-on packages. People, what a great way to give yourself and/or clients or loved ones a truly memorable experience.