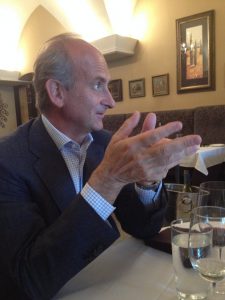 Tall, slender, and aristocratic in appearance, kind and gentle in demeanor, and full of wisdom about life in general and about the business and art of winemaking in particular, Lamberto Frescobaldi came to Chicago recently with a mission to introduce discerning wine lovers to his multiple collections of beautiful Tuscan wines. From Frescobaldi Toscana, Nippozano in Chianti Rufina territory and Castello Pomino hidden in Tuscany's Sequoia woods – the latter two also with luxury lodgings on site – to Attems in Friuli and more, these estates produce luxury wines that have special appeal to gourmets and collectors around the world.
Lamberto – his father is the Marchese Frescobaldi – is dedicated to his work and deeply passionate about continually perfecting the art and craftsmanship of producing the highest quality wines. And he is, as well, a man who exemplifies the compassionate exercise of noblesse oblige. For example, his program to teach inmates of prisons in and around Florence the skills and professionalism needed to produce the superior oil from the olive trees growing on his family's estates.
"Our goal is to give these prisoners the skills necessary to reintegrate themselves into the work force and society. Our hope is that this model grows beyond our Tuscan-based programs to become a best practice for penitentiary systems around the world." He adds, "The evolution of the 'Frescobaldi per il Sociale' philanthropic efforts fills our hearts with pride and hope because it is a tangible sign that the public and private sectors can successfully work together for the common good."
Signore Lamberto Frescobaldi embodies the style and grace of Italy's noble men and women. As the 30th generation to operate the family winery business, he is pleased that his three children, 18, 22 and 24 are making their own choices about what to do. His eldest is studying wine and economics in Bordeaux, daughter 22 graduated in Italy and is now in Paris studying marketing. His younger son, 18, is in 12th grade and wants to study agriculture in England or U.S. He said when they were all young and he and Robert Mondavi began the first Italian-American joint-venture with the luxury wine brand Luce della Vite (reviews here and here), he was traveling like crazy, and the children told their mother they never wanted to do what he was doing because he was not home enough. "Then later, somehow," he said, "things changed for them."
Lamberto was deeply interested in agriculture from an early age, but his global education in wine began during the time he studied viticulture at U.S. Davis in California. He talks about one weekend when he decided to go to town and buy a bottle of his family's wine to celebrate an academic achievement. At the store he introduced himself to the owner as a member of the Frescobaldi family. Duly impressed with the young man, the owner asked if he would come to work there. While he could only work weekends, Lamberto became the owner's eager protégé, soon absorbing vast amounts of information about wines around the world. He said he also learned at that time that environmental awareness isn't just up to winemakers; it's also consumers who make a difference.
"Turn off the faucet when brushing your teeth. Don't drive to the store and buy a single bottle of wine – buy at least three on each trip."
After training and a brief stint as a member of the Italian police force, he joined the family business in 1989 where he began by managing vineyard investments and helping expand the family's Tuscan estates.
The company was small then, but it's since grown significantly. It doesn't buy juice or fruit or anything else. Rather the winemakers prefer to depend upon their own estates for everything. "We want to control our own vineyards. We buy the land, plant, we have the tractors and equipment. Yes, it looks like a big operation, but it's divided into a number of estates." The goal is the same for each estate: always to produce the finest possible wine that truly expresses the land from which it is born.
No easy task, certainly. "We went once to a tasting of 5 different Merlots from different countries, South Africa, Australia, Calif, Italy, and Chile. It was a blind tasting and each participant had to try to place each wine correctly on the map." He said he was able to hit only 3 out of 5, while two people actually hit all five. "Overly talented or very lucky," said Lamberto. "And this sends a message about how important it is to make wines that express their terroir unmistakably."
"Today many wines have a lot of residual sugar from having been picked when they were overmature. While this may taste good, it doesn't make you so excited." He likened the statistics about wine consumers to a pie chart, like a pizza. "There's a big portion of people who don't really care too much about what they're drinking. And a small slice of people who really want to go beyond – that's who I am aiming to talk to."
"We should try to teach everyone to concentrate just a few minutes on what you are eating and what you are drinking."

"Some people can remember tastes. When you're able to compare and decide if you like something or not is already a big accomplishment. Many people are scared to say if they like something. Sometimes I use as an example the idea that as you age, your taste in chocolate may change. You start to like dark chocolate more because your palate is becoming more developed – like working out in a gym."
Lamberto spoke of the agriculture behind making wine and said that all vineyards benefit from significant day/night temperature differentials which are crucially important for the metabolism and development of aroma precursors in all the grape varieties.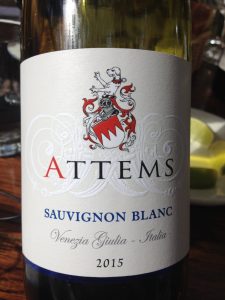 As an example of a particular wine that was elevated by such differentials, his Attems Sauvignon Blanc 2015, served with appetizers at restaurant Piccolo Sogno, 464 N. Halsted, was beautifully fragrant and crisp. Winemaker tasting notes: Lovely impressions of sage and tomato leaf lead off on the nose, closely followed by notes of late-ripened peach, melon, and white plum. Rich fruit flavors heighten the palate and the wine has an alluring, superbly balanced finish. Between late August and September that year, the day/night differential was dramatic, ranging as wide as 14.5 C degrees (that's 55+ F). It pairs beautifully with appetizers and light dishes.
Attems is also an example of how Frescobaldi honors the former owners of vineyards they purchase. Attems now uses Frescobaldi fruit to make its exceptional white wines, but this winery was owned by the Attems family for 500 years. The former owner remained a partner for several years after Frescobaldi purchased a major share. After his death, his daughter sold the final portion to Frescobaldi. "We want to honor the work that these owners did to develop the vineyard to a high level," he said. He points out how critical it is to be good at managing land in order to try to transmit the spirit of that location through a bottle of wine.
"Although as much as I would like you to love all of the wines we make, it's a fact that this is not ketchup or Coca Cola. We must be more strict with ourselves, as we want to communicate where we are."
Another Frescobaldi white wine, Pomino Benefizio Riserva 2012 is a gloriously rich and fruity wine that's part of Frescobaldi's cru line. The 100% Chardonnay grapes grow on the sandy, stony, well-drained soil of land acquired years ago from a local church, and Frescobaldi still gives the church a portion of the finished wines and olive oils made there each year.
Tenuto Frescobaldi di Castiglioni 2014, is grown on the oldest land owned by Frescobaldi, located just south of Florence. Deliciously complex and an excellent accompaniment to Piccolo Sogno's baked branzino with fingerling potatoes and roasted whole young carrots.
Mormoreto 2012, a blend of largely Cabernet Sauvignon, Cabernet Franc, and Merlot, with a touch of Petit Verdot, is exquisitely aromatic and elegantly structured. This wine presents an impenetrably intense ruby color and a complex nose: red fruits such as blackberry and raspberry meet the balanced floral notes of bergamot and the spiced ones of bitter cocoa, cocoa butter, roasted coffee bean, light vanilla, cloves, jasmine and grey tea.
In the mouth the wine is fresh, complex, persistent and balanced. The tannins blend well with the body resulting in a wine that is velvety to the palate. The acidic component is noteworthy and joins elegantly with the alcoholic content. Notes of mixed berries, black and raspberry, and a light liquorish note accompany a peaty whisky, tobacco and vanilla finish. SRP ~$80. Piccolo Sogno provided an ideal atmosphere to try these superb luxury wines on a warm early-autumn day on the patio. Excellent service in a comfortable country-Italian atmosphere. Bellisimo.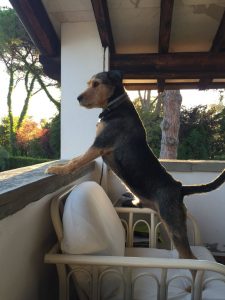 It's obvious Lamberto speaks with great pleasure and pride about his wines and his family. But he speaks, also, with wonder about his dog, a handsome Airedale mix named, aptly, Brunello.
"It is humbling," he said, "to see that even when another member of my family offers to take him for a walk, Brunello takes no notice. He waits only for me."