No matter what you call it – rum, ron or rhum – it's a drink that, done right, can have multiple subtle layers. If you're thinking about the cloying old standby, rum 'n' cola, you're in for a delightful surprise at how complex and intriguing a good rum can taste. First, a bit of background. At the broadest level, according to the South Florida Distillers' website, there are two distinct categories into which all rums fall: 
Rhum Agricole and Industrial (Tradtiional) Rum
.
Rhum Agricole
Rhum Agricole is rum produced with freshly squeezed cane juice that is typically fermented without adding any water. The fermentation process must begin within 24 hours of pressing the cane to avoid natural fermentation by wild yeasts. Rhum Agricole comes mainly from the Caribbean Islands.
Rum Industrial
Sounds unromantic, but don't be put off. This is the most familiar type of rum, fermented with the by-products of converting sugarcane into sugar. In the past this type was primarily made using molasses, but today it may be made with brown sugar, raw cane sugar (turbinado),
panella (solid whole cane sugar)
, or even white table sugar. Craft distillers tend to use easily obtainable and transportable granulated sugars that are far easier to process into rum. Traditional rum makers, though, still prefer molasses.
And these days, foodies are joining tipplers to create pairing flights-and-bites menus all over the country. In his new book,
The Tippling Bros. a Lime and a Shaker: Discovering Mexican-Inspired Cocktails,
mixologist Tad Carducci contends that alcohol itself is a flavor booster. Though many winemakers would vehemently disagree, Carducci writes that "since spirits have more alcohol than beer and wine, they have more of an ability to enhance the inherent flavors of the food with which they are being consumed."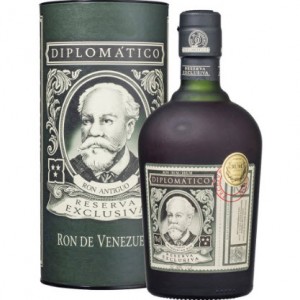 We're not here to argue, and even less so since we like that his favorite spirit to pair with food is rum. Diplomático, which makes rums of many types, including its Diplomático Reserva Exclusiva (read this post from 2010 about how to do a rum tasting plus top 7 rums – notice Diplomático is the top favorite!), agrees when Carducci suggests traditional Venezuelan cuisine to marry with the various expressions: blanco, blended, mid-age and very aged. Like wine, there's a lot to learn about rum, and the ideas below are definitely worth trying.
Blanco. "Lighter, younger rums tend to go very well with fish and shellfish. Their salty profiles match well against the less sweet expressions. Blanco rums also pair well with leafy greens and mild fruit and vegetables. Pair with paella.
Blended. "Marry cooked fruit flavors from orange to cherries and grilled pineapple to complement the spice of coffee, cardamom, anise and all kinds of smoked meats. With a variety of beautiful tones from wood barrels and a blend will pack flavor." Pair with coffee rubbed pork loin.
Mid-age. "More mature rums have amazing depth and layers of flavor. Those flavors can enhance everything from creamy to hard cheeses, roasted, stewed and grilled meats, nuts of all sorts, cooked fruit and, of course, chocolate." Pair with a taqueno, a Venezuelan classic of fried cheese.
Very Aged. "Aged whiskies, brandies and rums draw beautiful tones from wood barrels that pack more flavor onto the base spirits; adding vanilla, baking spice, earthy notes, fruit character and other flavor components." Pair by rubbing the rim of your glass with cacao powder.
Oh, how we love the orange and brown sugar notes in Diplomático Reserva Exclusiva, drunk neat before or after dinner!
And hmm, a bottle of ancho chili coffee rub is calling from somewhere deep in a corner of the spice cabinet…