Sweet Loren's makes cookie dough. They sent me some to tell you about. And I'm so happy they did.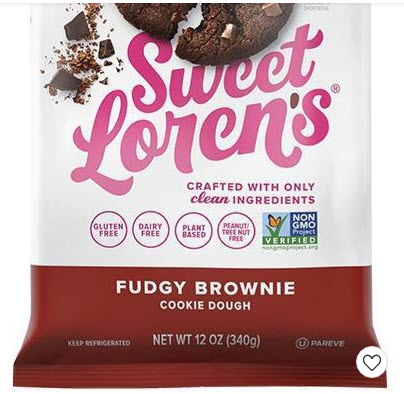 First, and most importantly, they taste delicious! Second, check this out. All clean ingredients. No raw eggs – yes, it's safe to eat raw! and that's half the fun of it. You open the package and in it are four rolls of stuck-together dough balls. You break off as many as you want to bake, put them on a tray and bake. OR – even more exciting – you break off a 110-calorie ball (or half a ball if you just want a taste) and eat it right out of your hand. These doughs are so tasty, you may never actually bake them.
Exciting, too, is the fact that they keep well in the fridge for at least a couple of weeks and, as long as the package is not opened, they will keep a couple of months in there. I'm guessing that's because there's no dairy to spoil. And according to their discussion with a dietician, "Sweet Loren's Cookie Dough products contain whole grain within their Gluten Free Flour Blend, so you are getting some vitamins and minerals."
I'm a huge fan of their Oatmeal Cranberry dough. My granddaughter loves the texture of the chocolate chunks in the Fudgy Brownie double-chocolate dough. Mostly we don't want to actually bake the cookies, though they're very good when you do. It's so easy to pull off a hunk and enjoy that luscious shot of sweetness and rich flavor. Just delicious. This is an idea whose time has come. Find it stores at certain Whole Foods, Jewel/Osco, Target and other stores.
Thanks, Sweet Loren's. Your doughs are now going to be always in my fridge.