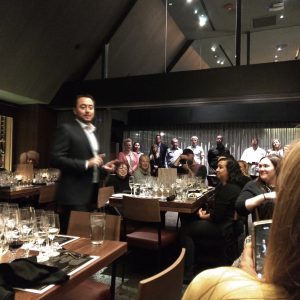 Landing with a great rush of wings, Tim McEnery's 41st Cooper's Hawk Winery location has landed in the dramatic, three-story space that used to house Del Frisco's Steakhouse. After turning down a restrictive contract for the first downtown Chicago location he wanted, and waiting nearly ten years for the right space and terms, McEnery knew when he heard Del Frisco's was leaving, that the time was right at last. The design incorporates many of the high-end, dramatic features from the original steakhouse and makes a gorgeous venue for celebrations, happy hours, wine tastings, special dinners and private parties,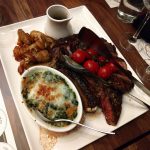 At this new Flagship location, CH is doing a few things differently. CH executive chef Matt McMillin has introduced five new dishes to the traditional 110-item, scratch-made-seasonal-ingredients American fusion menu. The new menu items include several mains and a dessert. 1) Shrimp & Scallop Risotto – studded with sweet corn, asparagus, peas, and spinach, and accented with Parmesan and white truffle oil. 2) Miso-Glazed Chilean Sea Bass stands proudly on its own with accompaniments of roasted maitake mushrooms and broccolini with soy lemon butter. 3) Gnocchi Carbonara features pancetta, chicken, sage, and peas in a garlic Parmesan cream sauce. 4) 25-oz prime bone-in ribeye, served with butternut squash and spinach gratin, blistered tomatoes and crispy potatoes (we would've liked the potatoes to be a bit crispier). 5) A dessert – Lemon Ice Wine Cheesecake – is an ethereally light dessert served in a toasted Graham cracker crust with macerated berries on top. Lovely. And the night we were there we got to try one of the brand's go-to desserts: The Cooper's Hawk Chocolate Cake – a killer dessert made with Valrhona chocolate, hazelnut ganache and vanilla ice cream and topped with a rosebud of whipped cream. SO good. Check out their other desserts here.
Besides the new menu items, the Oak St. Location will offer, as they do not in other places, selections of wines from around the world in addition to its own extensive selection. The beverage program is run by Master Sommelier Emily Wines (yes, that's really her last name), who engages with guests and the brand's nearly 400,000 Wine Club members to create unique experiences via education, immersive events, collaborative partnerships and curated lifestyle adventures.
Experienced CH General Manager Peter Ayoub comes to shepherd the new location after stints at Esquire Chicago and at the CH Palm Beach Gardens location in Florida.
If you're a CH member, you're probably planning your visit already. If you've never experienced the CH lifestyle or you just want to have some good food in a relaxed yet glamorous setting, hie thee to Oak St. and immerse thyself.