The Food Substitutions Bible, by David Joachim. Don't have any XO sauce to make that cool Asian recipe? How about agave nectar for that delicious-sounding dessert? This book is full of practical ideas for coming up with things you have around the house that can take the place of both food ingredients and cooking materials and equipment. Don't have a pastry bag? Try a plastic resealable bag or rolled parchment paper. Don't have any dry mustard (sound familiar to you, too)? For 1 teaspoon of powdered, substitute 1 tablespoon prepared mustard minus 1 tsp liquid from the recipe. How about this surprise—if you don't have coriander root (who does?), for 1 tablespoon, substitute 2 tablespoons of thick cilantro stems!
Whether you need a substitute for a key ingredient or utensil, want to vary the flavor or texture of a recipe or even just figure out a healthier version of an old favorite, this book has some great ideas for improvising with confidence. The first edition of this book won the prestigious International Association of Culinary Professionals (IACP) award. Now Joachim, author, editor and collaborator on more than 30 cookbooks, includes 50 new recipes in this revised edition. Just reading the pages—all information is clearly laid out in neat, easy-to-read boxes—may inspire you to new culinary efforts. Fun to read.
__________________________________
The Field Guide to Bitters & Amari, by Mark Bitterman. This book addresses the mysterious substances known as bitters. The book contains photos of some of the 500 different bitters it lists, along with flavor profiles and tasting notes for each—it's a genuine field guide (p 137). You'll learn that bitters come in categories: aromatic, citrus, fruit, spice, spicy, herbal-floral, and nut. In addition to the extensive information on bitters, the book also talks about 50 different amari, the popular after-dinner digestif drinks considered the kindred spirits of bitters because they're based on roots and herbs, and gives instructions on how to build a well-balanced cocktail with an amaro (p 87).
Plus the book contains dozens of recipes for sophisticated drinks and cool food items like Bittered Fried Chicken and Fried Olive-stuffed Olives with Bitter Lemon Olive Oil-Parsley dipping sauce. How about a Bittersweet Chocolate Torte that uses black walnut bitters in the cake and spiced bitters in the glaze? Aren't you just ready to run out and buy a dozen bottles of bitters right now? The author clearly knows whereof he speaks—he actually runs a store called The Meadow that sells the largest selection of bitters in the world at all three of its locations. He even gives instructions in the book on how to make bitters and amari at home.
The book comes with a heavy, rich-looking, leather-like cover with orange/gold debossed printing and would make a wonderful gift for any food and/or drink aficionado looking for some excitement.
__________________________________
The Spice & Herb Bible, by Ian Hemphill with recipes by Kate Hemphill. What is the difference between a spice and an herb? How did people use spices in 1700 BCE? How about a recipe for Chocolate and Wattleseed Truffle (p. 674) to crown your dinner party? Think about making Indian Butter Chicken (p. 156)—with a homemade 11-spice blend and chicken breasts marinated in a yogurt curry accented with tomato paste, brown sugar, almonds, tomato chutney, grated onion, garlic and more spices. Num.
This revised edition is a heavy, massive paperback book with glossy photos and lots of white space, boxed information, easy-to-read lists, and good ideas for how to buy and store, along with creative uses and recipes for everything from allspice to zedoary (white turmeric). Be aware that all recipe ingredients are given in milliliters and grams rather than ounces—an opportunity to polish up your knowledge of converting to and from the metric system. This book is great for a wannabe chef or someone who just wants to spread her wings and try new things in the kitchen.
__________________________________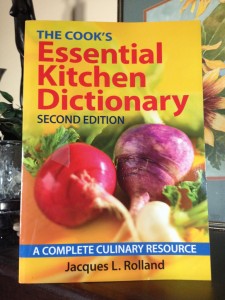 The Cook's Essential Kitchen Dictionary, by Jacques L. Rolland. Sure, we can look up anything we want online. And that's great, but there's really no substitute for a book when you want to explore something at your leisure. Here you'll find food history, anecdotes, and information about origins and cultures along with 5000 definitions for familiar and not-so-familiar food and ingredient terms like distillation empanada, jicama, kohlrabi leavening, nam pia, orgeat, ratatouille sake, zabaglione and more. Use this for practical assistance when making a recipe with strange ingredients, or just read it for the joy of learning more about the amazing things people eat and season their food with.
The author of this book is a Frenchman with a degree in culinary arts and hotel management and also a certified sommelier (a very tough exam to pass). In this book (he also wrote The Food Encyclopedia) he shares his extensive knowledge of current realities of the world's culinary landscape and intersperses it with his experiences teaching classes in etiquette, service and wine.
__________________________________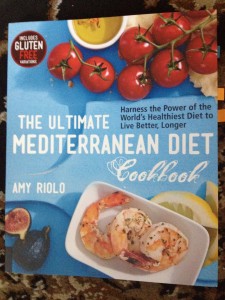 The Ultimate Mediterranean Diet Cookbook, by Amy Riolo, chef, television personality, cuisine and culture expert, is an Italian American of Calabrian descent. The focus here is on the health benefits—living longer and better—of the delicious dishes that characterize the Mediterranean diet—said to lower your chance of developing heart disease by nearly 50%. Author Riolo talks about what you should eat and why, as well as when you should eat it.
You'll find, for example, a thorough explanation of how and why vegetables are part of the foundation of Mediterranean eating (often the basis for entire meals) just before recipes for asparagus soup, spaghetti squash "pasta," and a Moroccon Vegetable Tajine. Read a write-up on the nutritional benefits of fish and seafood, just before recipes like Greek-style Roasted Fish and Vegetables, and a boxed tip explaining that marinating seafood, meat or chicken before grilling it doesn't just taste great. It also "reduces the harmful cancer-causing substances" that open-flame cooking can produce.
Riolo groups meats with sweets in the book because, as she says, both are rich in fat and eaten quite sparingly in the typical Mediterranean diet. The book contains 100 recipes from 25 different countries around the Mediterranean Sea. Riolo is also the author of The Mediterranean Diabetes Cookbook, Nile Style: Egyptian Cuisine and Culture, Recipes & Princely Entertaining Ideas from the Arabian Peninsula, and several others.
__________________________________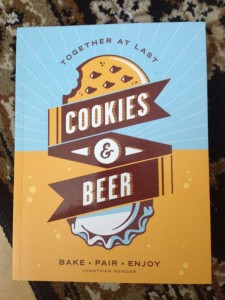 Cookies & Beer: Bake, Pair, Enjoy, by Jonathan Bender. Yes, you read it right: Cookies and beer. While this may seem like heresy, the more you read about it, the more sense it makes. Both things have important ingredients in common: grains, spices and fruits. The book points out how the perfect beer can bring out unexpected flavors in a cookie, and how the right cookie can awaken flavors hardly noticed before in a beer.
The cookie recipes are fascinating—some of them even include beer as an ingredient as in, for example, Rye IPA Apricot Crumble Bars, which are made up of an apricot-beer-lemon-maple-sugar compote, a rye-flour-sugar-butter shortbread, and a caraway-black walnut crumble. Isn't your mouth watering just thinking about that? The chef's notes say: "Rye beers (IPA or otherwise) will amplify the rye and caraway seeds in the bar cookie and tease out a bit of sweetness from the apricot filling."
You can tell this guy's a food writer. This book is fun to read and dream about—even if you never make any of the recipes.