This is the time we all love to get out and appreciate some of our fair city's great culinary spots and/or the cool products their chefs produce. Here are a few ideas for your consideration.
Grand Trunk Road, 1417 W. Fullerton Ave., is a chic and modern Southeast Asian restaurant named for the ancient road that winds its way through Afghanistan, Pakistan, India and Bangladesh. Husband and wife owners Chef Behzad Kahn and Basma Arain have invented a cuisine that combines flavors from all four countries to create a menu of dishes unique in Chicago. Dinner highlights range from King Crab Masala Curry with Coconut Milk, Ginger, Tomatoes & Mustard Seeds, Goat Biryani (Rice) with Saffron, Whole Spices, Yogurt & Tomatoes and Podina Lamb Chops with Mint, Yogurt and Chili Flakes. Weekend brunch features inventive dishes like the Aloo Tikki Benedict with Turmeric Hollandaise, Pickled Onion & Micro Watercress and a Lamb Burger topped with a Crispy Fried Egg and Mint Chutney take center stage.
Stephanie Izard, the creative genius behind the magic of Girl & the Goat, Little Goat Diner, Cabra and Duck Duck Goat restaurants. Now she's teamed up with Made In cookware to bring back the "This Little Goat" kit after it sold out almost immediately after launch in July. Her limited edition collaboration includes recipes, cookware and ingredients that will help home chefs make their very own version of Chef Izard's dishes. The Little Goat kit ($119) Includes:
This Little Goat went to Southeast Asia sauce
This Little Goat went to India spice
This Little Goat went to Morocco spice
3 recipes from Chef Izard
Made In Blue Carbon Steel Wok
Carbon Steel Seasoning Wax Kit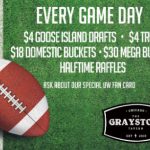 The Graystone Tavern, 3441 N. Sheffield, is hosting a series of happy hours. "8 Crazy Nights" is Chicago's first and only Hanukkah-themed pop-up bar that will benefit Jewish charities across Chicagoland. Open to the public, the pop-up bar features a winter wonderland of Hanukkah decorations, including over 8,000 blue and white lights and Hanukkah ball lanterns adorning the ceiling, Star of David and dreidel ornaments, lighted menorahs, Mensch on a Bench, a photo booth with Hanukkah props and more. "Happy Hour for a Cause" Schedule: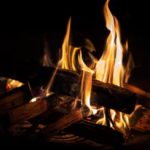 And if you're into drinking/eating in front of a fireplace, TimeOut Chicago has compiled a listing of best bars and restaurants with fireplaces. Their selections range from downtown to Wicker Park to Lakeview and  Edgewater on the north, with a bunch in Logan Square. I didn't see any on the south side, but thanks, TimeOut!