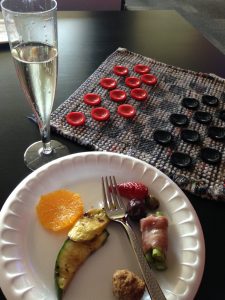 While we're in lockdown, we become more aware of our love and need for good food. Thanks to the employees who are hanging in there to make and deliver the stuff to us in our hidey holes. Bill Gates estimates it'll only last 8 to 10 weeks if we handle the effort well, so let's all cooperate by staying home and listening to the CDC coronavirus guidelines.
But we can't for long separate ourselves totally, so let's look at a few options for connecting virtually to share meals, play games, or whatever ways you feel like being with friends and family.
Netflix Party – download this Chrome extension on each person's computer. Pretty easy. Great synchronization for all participants.
Google Hangouts Meet – set up a meeting on your Google calendar and invite people.
Zoom.us – download the app. It's free for basic, but they only allow up to 40-minute sessions. At $14.99/mo you get up to 24-hour sessions.
If you've discovered other technologies for simultaneous viewing, video calls, etc., please tweet to @ BarbaraSWWAN. Thanks, and good connecting!