Now firmly ensconced in their new production facility, the folks at Dutton-Goldfield have been busy creating luscious super-premium and luxury wines – especially their elegant Pinot Noirs – in spite of the fires. They did stop production on 2020 Pinots from Sonoma due to smoke. but there are plenty of Pinots from their other vineyards. Below are highlights of three of their late-year 2018 Pinot Noirs and a bone-dry Riesling.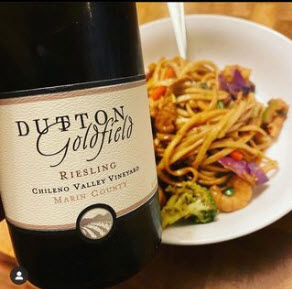 Meanwhile, if you're in the area, near Sebastopol in California, call ahead for an appointment to check out their newly reopened tasting room and sample their unique Wine & Cheese Experience – a whole lineup of local cheeses paired perfectly with a variety of their wines. My mouth is watering just thinking about it.
2018 Van Der Kamp Vineyard Pinot Noir – Sonoma Mountain. Start with dusky aromas of Bing cherry, plum, and dried sage, and a perfume of dried purple flowers. As you let it rest and sip slowly, you'll notice savory/sweet notes of rhubarb and beet, too. Let it fill your mouth with a robust and sultry experience that'll remind you of the earth in which the grapes grow – the essence of terroir. Black cherry, spicy sandalwood and black tea mingle with tight, fine tannins. This powerful wine makes a fine cellar option. Alc 13.9% SRP ~$68.
2018 Dutton Ranch Emerald Ridge Vineyard Pinot Noir – Green Valley of Russian River Valley. Juicy, plush blueberry fruit framed by sandalwood and lavender come across as opulent, but also have a fresh lift and energy in the nose. Rich blueberry, boysenberry, and black cherry fruits are carried on round but firm black tea tannins. The wine has a rich sweet fruitness that pairs beautifully with savory dishes like herbed pork or fowl, pasta with mushrooms and prosciutto, and cheeses like gruyere and Manchego. Alc 13.8% SRP ~$68.
2018 Deviate Pinot Noir – Sonoma Coast. This wine was first bottled in 2013, at the time the only deviation from the single-vineyard rule. Working with two separate vineyards with different grapes and growing seasons, Dutton-Goldfield created a winner and settled on the name. Notice the rich deep color of this striking and intense wine. Let your nose appreciate the aromas of wild berry preserves cloaked in cigar box spice with a touch of mushroom earthiness. Black cherry and black raspberries don't overwhelm the fresh acidity. Taste the toffee and caramel on the bright and long finish. Perfect for cellaring. Go with dining pairings on the richer side to match the earthy qualities of the wine: braised pork with mushrooms, herb-rubbed game birds, or pasta with a pancetta and chestnut sauce. For cheeses, try a Gruyere or Taleggio. Alc 14.1% SRP ~$72.
2018 Chileno Valley Vineyard Riesling – Marin County. The long temperate growing season of 2018 let the grapes for this Riesling ripen for a longer time. As a result, lemon, lime, and honeydew melon aromas combine with floral accents to give this wine a textural quality. The bright tart sweet finish along with a touch of oyster shell minerality help this wine reach the typical style of a Riesling as it ages. Perfect with seafood, raw oysters and steamed clams, or spicy ratatouille. Drink it now for white peach and grapefruit fresh acidity, or let it mellow into apricot, lychee and earthy aromas and flavors. Alc 13.3% SRP ~$30.
If you love Pinot Noirs and bright, light wines, acquaint yourself with the sustainably grown grapes, the family-owned vineyards, the people and the dogs of Dutton-Goldfield. You are in for some fun and surprises and fabulous wines.

Twitter: @DuttonGoldfield
IG: @duttongoldfieldwinery