The Butcher's Tap opened recently at 3553 N. Southport. According to co-owner Bob Dalton, "We've revived this location (a former butcher shop) and given it a whole lot of TLC." Gorgeous butcher-block tabletops that look freshly made line up to form a cozy, warmly lit seating area opposite the long bar. Lots of twinkly lights join with the multiple sports-centered flat screens to illuminate the place – it's a sports-bar-lover's paradise. And one thing I found extremely cool – they have a DJ who monitors the screens and puts on rockin' music the second the advertising starts. Good games with great music instead of commercials? I'm on board.
Drinks range from barrel-tapped wines ($8 a glass) and bottles (a small but nice selection from $25 to $60) to hand-crafted cocktails like the Ravenswood Old Fashioned and Iced and Spiced Moonshine, and a big selection of beers, lagers, ales, stouts, and so on (many on tap). If you're more in the mood for shots or liquor on the rocks, their selection is respectable and worth sampling.
The food is also a big attraction here. In addition to their hormone- and antibiotic-free, grass-fed burgers, they've got signature sandwiches made with hand-sliced deli meats (from Smoking Goose, Dietz & Watson and Ferndale Farm) and off-the-block cheese like Saxon's Big Ed Gouda, Decatur Dairy Havarti and lots more. PLUS, they offer an array of select and seasonal choices of cured meats and cheeses. The night we visited these included South Sider Cider (pork & Venison, brewed cider), Elk-for-heavens-sake (with dried blueberries and New Day Mead), Capriole Goat cheese (said to be the best in the nation), and Red Dragon English cheddar with whole grain mustard and ale (fabulous taste – I couldn't stop eating it), among others. Their cheese plate goes for $14 and feeds two generously as an appetizer. Good value. And you can make your own burger by picking a protein and adding your own toppings (burgers go for $10 to $13 and include fries or a picnic side (see below).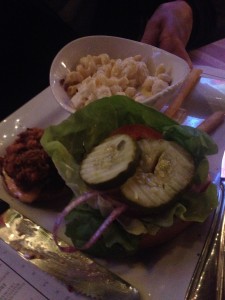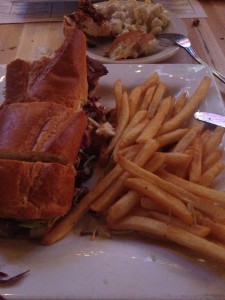 These guys love local. Butcher's Tap consults on its cheeses with reps from Forge and Foster. The cheese board comes with nuts, crackers and spreads plus a little cup of scrumptious apricot jam that's made in house. Sandwiches come on crusty multigrain, brioche and other breads from Upper Crust Bakery, and the cured meats come from the Smoking Goose in Indiana. Their French fries are made with real, honest-to-goodness fresh potatoes. They're salty and crispy and delicious, and you can get an order for 3 bucks – nice. They make their own fried chicken by soaking chicken for 12 hours in beer batter and then hand-frying it for you (Cajun or classic). My companion said the chicken in her sandwich was a little dry and the breading looked slightly burned, but I'm sure they'll get that under control as they fine-tune their processes. We both thought the mac & cheese could have used a little more oomph – more cheese or something. But again, this place is clearly out to show you the love, so we think any missed notes will soon be addressed. Other sides include onion rings ($4), elotes corn (grilled with a creamy sauce, $3), pasta salad ($4), potato salad ($4), and city slaw ($4).
Don't miss a chance to enjoy the comfortable, friendly atmosphere and the good food at The Butcher's Tap when you're near the Southport corridor. This place could vie for one of my favorite "I need some love" – and food – stopovers.