Chicagoans take their brunch very seriously, so it's no surprise that one of the city's prolific hospitality firms, Four Corners Tavern Group, is behind some of the most playful and delectable offerings. Their brunch menus offer creative fare and superior service in relaxed, yet lively surroundings. From music to munchies, you're bound to find something to love in one of these neighborhood concepts.
Benchmark (1510 N Wells) in Old Town retracts the patio roof when the weather's right. Their brunch goes for $35 per person with a $15 unlimited mimosa package (served Saturdays 10am to 2pm) features all-you-can-eat food stations like a carving station, plates of smoked brisket, the famed Doughnut Vault tower, a seafood tower, a sinfully-sweet waffle bar; and a build-your-own Bloody Mary bar
Hurry on out to Gaslight Bar & Grille's (2450 N Clark) rustic beer garden with communal tables. Only until September 30 they've got brunch specials on offer the first Saturday and Sunday of each month (11 am to 2pm) and include Chicken & Waffles with organic honey, Nueske's bacon and fresh fruit ($10), Biscuit Sliders with scrambled egg, cheese and a side of tater tots ($9), a Mimosa package ($10); Bloody Marys ($8); and Trop Bombs ($5).
WestEnd (1326 W Madison) puts out brunch in an expansive sports bar atmosphere. Feast on $10 brunch specials like Chorizo Sloppy Joe with Texas toast, poached egg, cilantro, avocado and a side of house chips and French Toast Sticks served with whipped cream, powdered sugar, bourbon pale syrup and Fireball-infused crème anglaise. Build-your-own Moscow Mule Bar ($10); unlimited mimosa package ($15); and cheeky beverages such as the insta-worthy Cupcake Shot ($5) out on one of the two dog-friendly sidewalk cafes or inside the new, enhanced game room.
Fremont (15 W Illinois).  Think Vegas with this version of Sin City's legendary over-the-top buffet ($35 per person with a $15 unlimited mimosa package). The distinct social dining experience can take you well into the night if you so desre. DJs spin top hits throughout the bi-level, sleek and chic space with retractable roof. Every Saturday and Sunday, from 10am, reservations recommended. The unlimited assortment includes carving station, Doughnut Vault tower, omelet station, seafood tower, waffle bar with extravagant accoutrements, and a DIY Bloody Mary bar with fun surprises,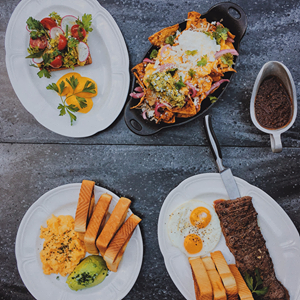 SteakBar (1500 N Wells). This dining-to-nightlife hotspot, introduced brunch service every Saturday and Sunday from 11 a.m. until 3pm. Elevated breakfast options include:
Steak & Eggs with succulent skirt steak, roasted tomato and sunny side up eggs ($20)
Scramble made from farm eggs, crème fraiche, avocado and chives, served aside Texas toast ($11)
Avocado Toast, a popular choice with crushed avocado, cherry tomatoes and radish atop toasted multigrain ($11).
Unlimited mimosa package ($15) is also available with purchase of a dish.