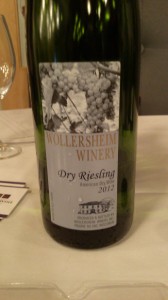 San Francisco invented this challenge and in 2013, its 33rd year, more than 1400 wineries entered 4500+ products from 29 states and 30 countries. Since the San Francisco International Wine Competition folks took the 2013 winners on the road to major cities across the country, I'm sharing my notes on some of the Double Gold winners that stood out.
The Double Gold Winner of the overall competition (as judged by 52 of the wine industry's best palates) came from a not-far-from-Chicago winery. How about that? American winemaking has sure come a long way. Even the tres haute magazine Wine Spectator says France is rapidly losing its mystique as the mecca of the winemaking universe. The day is nearly upon us when serving your guests a fine "blanc de blancs" (what sparkling wines have to call themselves when they're not made in the Champagne region of France) will have precisely the same cachet as pouring champagne.
Wollersheim Winery, maker of the winning wine, is located at 7876 Hwy. 188 in a little town called Prairie du Sac, a few miles from Madison, WI. They took the grand prize with a still white wine, a dry Riesling. While I normally think of Rieslings as the white that's a-little-too-sweet-for-dry-wine-drinkers wine, this one is titled "dry" and tasted deliciously light with barely a hint of sweetness. A masterful blending.
And here are a few among the other Double Gold winners that I particularly enjoyed.
Puma Road 2011 Chardonnay from Pedregal Vineyard in Paicines, San Benito County. This is the only white wine that I gave 5 stars to, even though the judges chose D&L Carinalli Vineyards 2011 Estate Chardonnay as the Best Chardonnary of the show. Both retail for about $20, so pick one or both and decide what you think.
Here's an interesting twist. The wine chosen Best Merlot – Villa Yambol 2011 Merlot from Thracian Valley, Bulgaria – retails for about $8 and garners only 3 stars on the popular Vivino wine app. Could be the price is so reasonable because the Bulgarians are just trying to gain a foothold in the international wine market. I remember when South American wines were dirt cheap. Not so much these days since their quality has finally been widely recognized.
I'm delighted to report I could agree wholeheartedly with the judges' choice of Best Cabernet Sauvignon (my favorite grape). A big 5 stars to Rocca Family Vineyards 20009 Cabernet Sauvignon, Grigsby Vineyard, Yountville. Beautifully balanced, complex with a long finish (which I take to mean it keeps tasting good even after you swallow it).
And I gave 4 stars to the wine they designated Best Bordeaux Blend <$25, the Antucura 2008 Calcura, Red Bordeaux Blend from Uco Valley, Mendoza, Argentina (there's that South American quality). Blended from Cabernet, Merlot and Malbec (a bunch of my favorite grapes), it retails for about $20.
The wine chosen as Best Red in Show was the J. Lohr 2009 Premium Bordeaux Blend, Cuvee POM Paso Robles, CA. I thought it had a tinge of sweetness, which surprised me in such a fine wine. But it was also exceedingly well balanced – creatively blended of Merlot and Cabernet Franc but with tiny additions of Cabernet Sauvignon, Malbec and Petit Verdot (never heard of this one so here's some info) – and very easy to drink. Not that I'd be likely to over-indulge at $50 a bottle. Still, a wine worthy of a truly special occasion.
One notable 4-stars-from-me wine was the McManis Family Vineyards 2011 Petite Sirah, CA with its ripe taste of blueberries. Sweet-ish, but not sweet ($11). And if you like prosecco very light taste and light bubbles, the Best Prosecco in Show was Zonin Prosecco from Veneto, Italy ($15). It had more body than I typically feel in prosecco. I liked it but much prefer the blanc de blancs and champagne for my wine bubbles.
The white wine chosen as Best Sauvignon Blanc was Matua 2012 Sauvignon Blanc from Marlborough, New Zealand, supposedly the first sauvignon blanc ever grown in NZ, but I gave it only 3 stars. I am willing to try it again compare to one of my favorites, Goldwater sauvignon blanc, also from NZ.
You could, of course, also get the Top 100 Wines edition of Wine Spectator and start tasting in your price range. Whichever way you go, the only real answer to "what's best" is to taste for yourself. Great way to start the new year, so have fun!