Did your Catholic family eat frozen fish sticks every Friday in Lent when you were a kid? It was the only exposure of any kind to fish that my siblings and I had. I remember fondly the crunchy coating and the non-taste of the little bit of "fish" inside. The coating and the ketchup and the jarred tartar sauce made an okay dinner option for me.
Nowadays we know we've gotta be careful where we get our fish so we don't over fish and strain our great oceans anymore than they already are. A company called Wild Planet has some really original ideas for using their sustainably fished products that they fish for using the pole and line fishing methods.
Herewith, a couple of Wild Planet recipes that won't remotely remind you of frozen fish sticks.
Southwest Chipotle Tuna Burgers
Recipe by @crepesandbows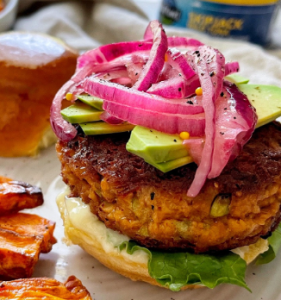 Ingredients
2 (5oz) cans Wild Planet Skipjack Wild Tuna
1 Egg
2 tbsp Chipotle pepper paste
2 Green onions, finely chopped
½ cup Shredded sharp cheddar cheese
½ cup Panko breadcrumbs
Salt and pepper to taste
Vegetable or olive oil
Burger Toppings (optional): Mayonnaise, Brioche buns, Lettuce, 1 Avocado, sliced, Pickled onions
Directions
Mix everything together and refrigerate for ~30 minutes to let the flavors develop.  Using a measuring ½ cup, form cakes and gently round with your hands. Preheat the pan to medium heat, add oil and pan sear until each side is crispy golden brown. To serve – add some mayo to brioche bun, top with lettuce, tuna burger, avocado slices, and pickled onions.
Mackerel Lettuce Wraps
Ingredients
3 large butter lettuce leaves
1/2 cup raw beet, cut into matchsticks
1/3 cup grated Granny Smith apple
1 Tbsp lemon juice
1 tsp lemon zest
1 (4.4oz) can Wild Planet Wild Mackerel Fillets in EVOO, undrained
1 Tbsp chopped fresh parsley
Freshly ground black pepper
Directions
Arrange lettuce leaves on a serving plate. In a bowl, mix together the beets, apple, lemon juice, lemon zest and the reserved olive oil from the can of mackerel. Divide the mixture atop the lettuce leaves and top with mackerel fillets.
Finish with a sprinkle of chopped parsley and freshly ground pepper.
Anchovy Frittatas
Ingredients
6 eggs
1 (4.4oz) can Wild Planet White Anchovies in Extra Virgin Olive Oil, undrained
1 cup chopped kale
1 cup broccoli slaw
10 cherry tomatoes, halved
Sea salt and freshly ground pepper, to taste
Directions
Preheat oven to 350 degrees F. In a small bowl, whisk eggs and season with salt and pepper. Set aside. Heat a cast iron skillet over medium heat. Add 1 Tbsp olive oil from the anchovies can and sauté kale and broccoli slaw until beginning to soften, 3-5 minutes. Add tomatoes, sauté another minute. Add eggs to skillet and cook undisturbed for a minute or two. Top with anchovies, place in oven and cook 10-15 minutes or until eggs are fully set and frittata has puffed a bit. Remove from oven, allow to cool slightly and serve.
Go forth and enjoy. You don't need to confine yourself to Fridays or even to the Lenten season to get the most out of these and other  excellent recipes.