Got twine? That's how most sources tell us to truss our turkey (or chicken or Cornish hen), right?
The pros tell us we really should tuck all the ends in when we roast a bird. It yields more even cooking, resulting in all the parts of the beast getting cooked to the same doneness. And preventing that prize roast from developing burnt or dried out wings and legs. And the traditional method of trussing is twining…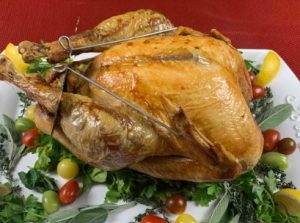 But for most of us, the chances of having twine around the kitchen are slim to none. To my delight, TurboTrusser sent me its nifty trussing device to try. It's  designed to do the job for you in a snap. This little item recently won investors on Shark Tank. It hooks onto your comfort-food bird (there's a size for chicken, Cornish hen and turkey), snagging the wings and tucking the legs close to the body. You don't have to fight with the roast turkey or chicken to get it neatly tucked together. And you can still put your stuffing in there if you like. Plus, it stores flat so you can tuck it into any drawer 'til you're ready to roast again.
Turkey-day approaches, people. Check out TurboTrusser and see how it works for you. Or give it as a holiday gift to your favorite home chef.