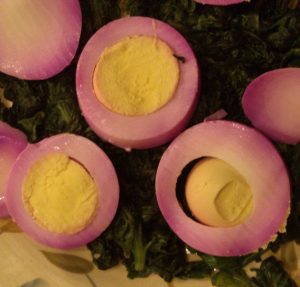 I love eggs but have always felt a little hesitant about eating them for anything beyond breakfast – well, not counting deviled eggs, for which I have collected dozens of recipes, almost any of which I would eat morning, noon or night. And that whole frittata thing, a good one of those says lovin' any time of day. Thank you, Epicurious, for "The Only Frittata You'll Ever Need!"
Okay. I would and do eat eggs any time. But I never thought of serving them with pasta – that ultimate comfort food that we all worry about consuming too much of. That is, I didn't think of it until I ran into a couple of recipes that had my mouth watering. Olive oil, garlic, Parmesan on pasta with softly fried eggs? Just think about that super rich, creamy and delicious yolk making a sauce on that. Oh, yeah. And not a vegetable in sight – a rare occurrence in this kitchen. So thank you,
New York Times for "Spaghetti with Fried Eggs."
Since I rarely suggest anything that doesn't involve at least one vegetable, how about spaghetti with softly scrambled eggs and sauteed onions and peppers? Num! Makes the guilt about eating pasta seem quaint, doesn't it? Thank you,
PastaFits.org, for Pasta with Eggs, Peppers and Onions
.
And if you'd like to take it one step further into the I-really-shouldn't-be-eating this realm, try adding bacon and bacon fat to the mix with Spaghetti alla Carbonara. Leave it to Tyler Florence, the madcap southern chef from Food Network, to up the fat – and the flavor – quotient in a recipe. Thank you,
Food Network for Tyler Florence's "Spaghetti alla Carbonara."
Got eggs? Get out the pasta and go for it.