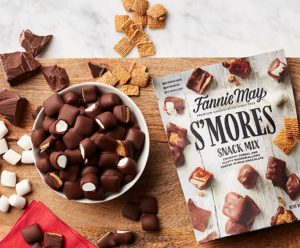 With the tsunami of COVID-19 causing a severe reduction in personal shopping these days,  some  retail businesses are scrambling to reach their customers. Wine, for instance, can be shipped, but it's extremely vulnerable to fluctuating temperature, humidity and movement. Some businesses are better positioned in this fight because their products are shelf stable and can be mailed or shipped with ease.
In the case of Chicago's own Fannie May chocolates, their products are also a big part of what people need these days – comfort food.  Now, in honor of National Chocolate Day October 28, Fannie May, celebrating its 100th year in business, has revamped its packaging with a new and vibrant signature look that gives a nod to the company's Chicago heritage.
And along with that, it's just introduced a new product called Fannie May S'Mores Snack Mix. I must say, the sample they graciously sent falls right near the top of my "Oh, I must have something sweet" options. Although I normally aim for dark chocolate (70%+ cacao, please), it's not very sweet. This snack mix, however, hits the sugar need perfectly. And I love the contrast of the crunchy graham cracker bits (honied and covered in sweet milk chocolate) with the smooshy sweetness of the marshmallow bits (covered in sweet milk chocolate). Ah, I haven't had a marshmallow in years. It did bring back memories.
The snack mix comes in bags of three sizes, 2-serving, 5-serving and 17-serving for parties – or just to keep around the house.  Each one-ounce serving is 140 calories. Best to measure out portions ahead of time so you're not tempted to keep stimulating your taste buds with that lovely mix of tastes and textures and sweetness.
Many thanks to whoever invented the S'More. And many thanks to Fannie May for creating S'Mores Snack Mix and touching our hearts in these troubled times with this convenient way to relive a bit of tasty nostalgia. No open fire required.