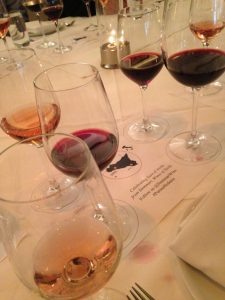 Stemmari is one of the premier wine brands in Sicily today. And their winemaker Lucio Matricardi, PhD, came to Chicago recently to share some of the exciting new ways he is using Sicily's indigenous Nero d'Avola grape to make powerful wines, including Stemmari's new creation, Hedonis Riserva Sicilia DOC 2015.
Tall and handsome, with the quintessential charm for which Italian men are famous, Lucio revealed some of the secrets of the work he is doing for Stemmari. Speaking to a group of members of Chicago's trade and media at Fig & Olive's delightful semi-private dining space, Lucio explained that Nero d'Avola, the single most important grape in Sicily – grown on 50,000 acres of the island – is quite different from those associated with areas like Tuscany – e.g., Sangiovese, Italy's biggest-selling grape and the principal ingredient in Chianti Classico. Lucio explained that the Nero d'Avola grape suffers in the dry wind conditions of Sicilian vineyards and then expresses itself with vigor.
Stemmari's basic Nero d'Avola 2016 vintage is deep red with violet pinpoints and has a bouquet of wild strawberries in the forest with hints of currants and pomegranate. The flavor is fruity, soft and velvety. And the Nero d'Avola grape takes very well to blending. For example, Lucio makes a wonderfully rich and structured wine called Cantodoro. He brought along samples of the 2015 vintage of this blend of 80% Nero d'Avola and 20% Cabernet Sauvignon (~$16). He says adding Cab grapes grown in the same soil as the Nero d'Avola complements and gives muscle or backbone to the Nero d'Avola. In this case, the Cab mix gives a deliciously full and structured mouth feel, flavor and finish. Lucio makes many a fresh and elegant wine for Stemmari, including a Pinot Grigio, a mango-and-papaya scented Grillo (another extremely popular Sicilian grape that Stemmari brought back to prominence for its floral, fruit and nut flavors with a hint of salinity ~$10), a Cabernet Sauvignon, a Pinot Noir, a Moscato, a lovely, fresh and fragrant Rosé Terre Siciliane IGT (~$10) – the 2017 is perfect with food, even spicy meats.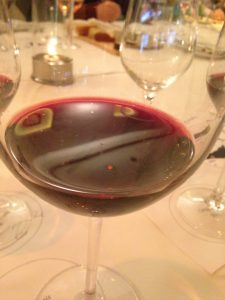 And introducing one of his most impressive accomplishments, Lucio presented the new Riserva that artfully combines the strengths of both Nero d'Avola and Cabernet sauvignon grapes – Stemmari Hedonis Riserva 2015 (~$50). Winemaker notes:
Color: Intense ruby red with hints of violet. The resulting aromatic profile of Hedonis is a bountiful and deeply complex expression with hints of dried red fruits, anise and sweet spices, notes of almond, vanilla and tobacco resulting from aging in wood. There is a profound structure on the palate along with a velvety and juicy attack, finishing with soft and sweet tannins.
This  premium red blend is a showstopper in the Italian red category.
And while we're at it, let us not forget to compliment the serving staff and the culinary team at Fig & Olive where Stemmari held this lovely introduction of its wines. Delicious bites and warm, gracious service all round.
Affordable wines that complement your meals and showcase for you the unique beauty of the Sicilian marriage of soil and vine. Perfect for gift giving or treating yourself anytime.
Follow @StemmariWine and use hashtags #LiveSicilianly, #PursueHedonis.