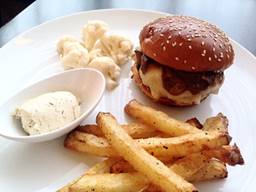 Acadia, 1639 S. Wabash in the South Loop, recently launched a new version of the Acadia Burger, one of the bar menu's most popular items. The 6-ounce wagyu, brisket and chuck burger, created by Chef Ryan McCaskey, is topped with a mushroom ragout and Gruyere Grand Cru cheese and served on a sesame bun. It's served with pickled cauliflower and hand-cut fries seasoned with house-made lemon pepper seasoning (containing over 20 ingredients) and foie gras butter. Sounds like a fascinating combination – and the fries look cooked just right.
The previous version, based on Burger King's Stacker, was recognized as one of Chicago's best burgers by Thrillist, TimeOut Chicago, Zagat and others. Acadia expects the new version to be just as well-loved. McCaskey said the new version "was inspired by my family eating at Hardee's on the way to my grandmother's house in Iowa as a kid." Clearly, the wagyu beef and Gruyere cheese alone push it several notches beyond the inspiration. To inspire yourself, check it out at http://www.acadiachicago.com/.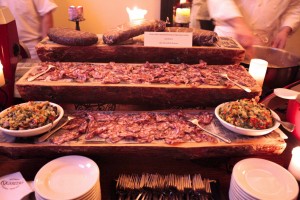 Quartino Ristorante & Wine Bar, 626 N. State St., invites you to help celebrate its 9th anniversary on Tuesday, January 6 at its Annual Wine Bash. From 7 to 9 pm, $25 at the door gets you samples of some of Quartino's most popular regional Italian food and wine specialties like pizza, Chef Coletta's house-made salumi, Polenta Fries, Veal Meatballs, and more. To drink, either rosso or bianco Antica wines or the restaurant's famous White Peach Bellini (Prosecco and house-made white peach puree).
"The evening will highlight many of the items that have been on our menu since day one in 2005," says Executive Chef John Coletta, "and that are still some of our customers' favorite dishes." Head up to the second floor when you get there (social media #LateOnState).
Kanela Breakfast Club (locations in Old Town, Lakeview and Wicker Park) welcomes power breakfast meetings with free wi-fi and complimentary parking .  NATIONAL SOUP MONTH – all month any guest who donates a canned soup or non-perishable food item will receive a complimentary order of Kanela's signature Loukoumades (Greek doughnut, lemon honey syrup and toasted walnuts). Donations will be made to a local food pantry. Not valid with any other offer or promotion, one per person.
National Blueberry Pancake Day – Wed. January 28. Every order of Kanela's signature blueberry pancakes comes with a free first cup of Julius Meinl coffee. One per person.
Compass Bar, 433 W. Diversey in Lincoln Park, is now serving brunch Saturdays and Sundays from 10 a.m. to 3 p.m. Brunch items range in price from $3 to $11 and features items like the breakfast pizza,
Bloody Mary with Rhinelander Lager
classic breakfast, omelettes, French toast and more. $6 mimosas and $8 bloody marys made with CH Distillery Peppercorn Vodka. Pair with a 3 ounce Rhinelander Lager bottle for an additional $2. The complete menu is available HERE. The Compass regular menu specializes in wood-fired pizzas and beer lovers choose from 180 bottled and 20 draft options.