Heresy or genius? About four years ago, at a dinner with copious quantities of wine passing 'round, an idea crept into the minds of the winemakers at Jacob's Creek wines, home of Barossa Shiraz and Coonawarra Cabernet Sauvignon. What if, they said, we took our fine finished wines and did something radical with them? What if, they said, after we've finished them with American or French oak, we let them rest another spell in whisky casks? What will that do to our fine finished wines?
You and I are the winners, because the answer is unequivocally: good things. After many months of experimentation with time frames and different types of barrels, JC winemakers have perfected a process that dramatically changes and ultimately elevates their final products into another realm.
| | |
| --- | --- |
| Jacob's Creek Double Barrel Cabernet Sauvignon  * * * * | Jacob's Creek Double Barrel Shiraz  * * * * * |
| The normal finished Coonawarra Cabernet Sauvignon is elegant with notes of cassis, red fruit, black currants and toasty oak and vanilla. It's fresh and bright with lots of tannins and a long finish. | The normal Jacob's Creek finished Barossa Shiraz comes out of the bottle soft and velvety, with notes of plum, cloves, blackberry and chocolate. It's a lovely Australian example of what most countries know as syrah. |
| Add – 3 months aging in an Irish whisky barrel | Add – 3 months aging in a Scotch whisky barrel |
| Double Barrel Cab – opens aromas to darker fruits, leaf, richer. "Depth of concentration, softer, fleshier." Beautiful. | Double Barrel Shiraz – notes of olive, darker blackfruit, oak char, intense fruit. Gorgeous. |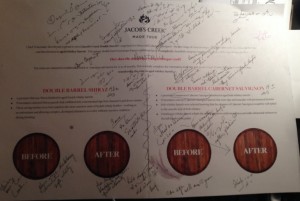 They knew that extra aging couldn't be for too long; you don't want your lovely Cab or Shiraz tasting like whisky. Thank goodness, Jacob's Creek's Ben Bryant explained, they took their time figuring it out.
In a couple of mini-tastings I conducted among friends, the consensus was that the change was not only dramatic, but also transformingly positive. The wines were lovely to start with—even confirmed Cab drinkers admired that first-finished Shiraz—having been made with grapes harvested under ideal conditions. Then, the Double Barrel treatment brought out hidden mystically mysterious gems in the wine.
Wow, people. Go get some Double Barrel and see what you think.