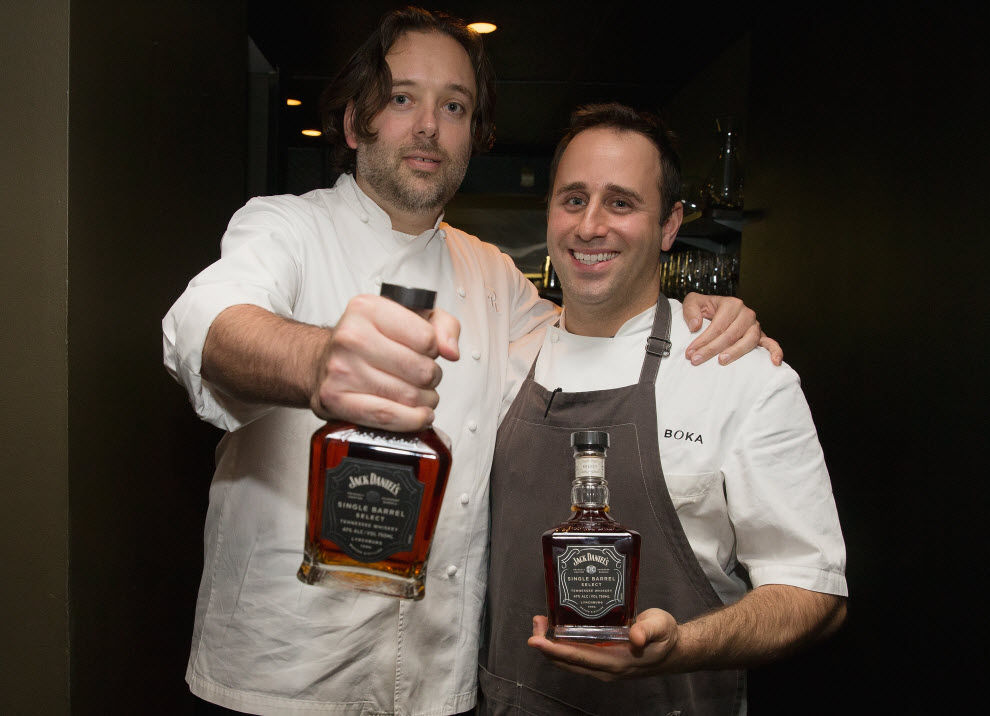 It was a night to remember when Chef Paul Liebrandt and Chef Lee Wolen teamed up with Jack Daniel's to create a totally off-the-charts evening of food and spirits at Boka Chicago . If you think that spirits don't go with fine cuisine, Jack Daniel's Single Barrel Collection came together with these culinary stars to show you otherwise. (Yes, the photos below are dark – the layers of light were quite subtle at Boka – but we loved the ambiance.)
"Single barrel" means the spirits come from only one barrel and are not blended with any other. Perhaps you already know that 100% of the color and 65% of the flavor in a whiskey comes from the barrel it's aged in. But did you know that Jack Daniel's makes its own barrels? That's what you call making sure of your quality control.
This collection of premium spirits is being introduced to the world with a series of special events across the country. The chefs and the locations are selected on the basis of their having the same passion for using only premium ingredients and applying extreme creativity to making the food and drink items stand far out from the ordinary. Boka Chicago Restaurant was a natural choice.
The evening started with oysters on the half shell with apple and celery, and a creamy, smoked something-or-other on a super thin and crispy black chip, adorned with a flower petal and a carved bit of radish – layers of delicious flavor. Served with these was a delectable drink consisting of white grape, lemon and Jack Daniel's Single Barrel Select topped with a splash of sparkling Chenin blanc.
The drink, served in flutes, had even those who admitted having previously only a tepid appreciation of whiskey, expressing surprise that it tasted so good. Plus, the atmosphere on the handsome, subtly lit patio just outside Boka's main dining area, the soft almost-summer night, and the warmly professional service by the bartender who created the recipe, made the reception a lovely prelude to an extraordinary meal.
Once seated, guests found their places adorned with small crystal clear glasses of Jack Daniel's Single Barrel Select, designed to be drunk neat or treated delicately with tiny dropper bottles of water in case one's palate required tempering the pure spirit slightly. The food feast began with softened butter and warm rolls – guaranteed to warm the heart of any Chicago steak house fan. But there any resemblance ceased. First course a single, perfectly seared Diver scallop, shiny with a Jack Daniel's-infused glaze, was surrounded by a super-smooth puree of potato and smoked haddock, and accented with quince and with green mango chutney.
Second came the beef tartare: raw beef was served minced rather than finely sliced, seasoned with black garlic and sorrel, mixed with crunchy bits of puffed buckwheat, and topped with black caviar – a truly memorable combination. The cocktail accompaniment combined Jack Daniel's Single Barrel Select, nebbiolo grape, pu-erh fermented tea and bitters – a perfect complement to the rich, oily meat.
Next, a unique fish that was unusually firm – somewhat rubbery to the fork but melting in the mouth – called Kindai Kanpachi. The small triangle of fish was surrounded by a smooth puree of charcoal grilled beetroot (delicious!) and dotted with small circles of yogurt and licorice-laced bits. The presentation was gorgeous, the combination of flavors excellent, and the accompanying Jack Daniel's Single Barrel Rye combined with yuzu (Japanese citrus), raspberry and orange blossom, a delightful melange.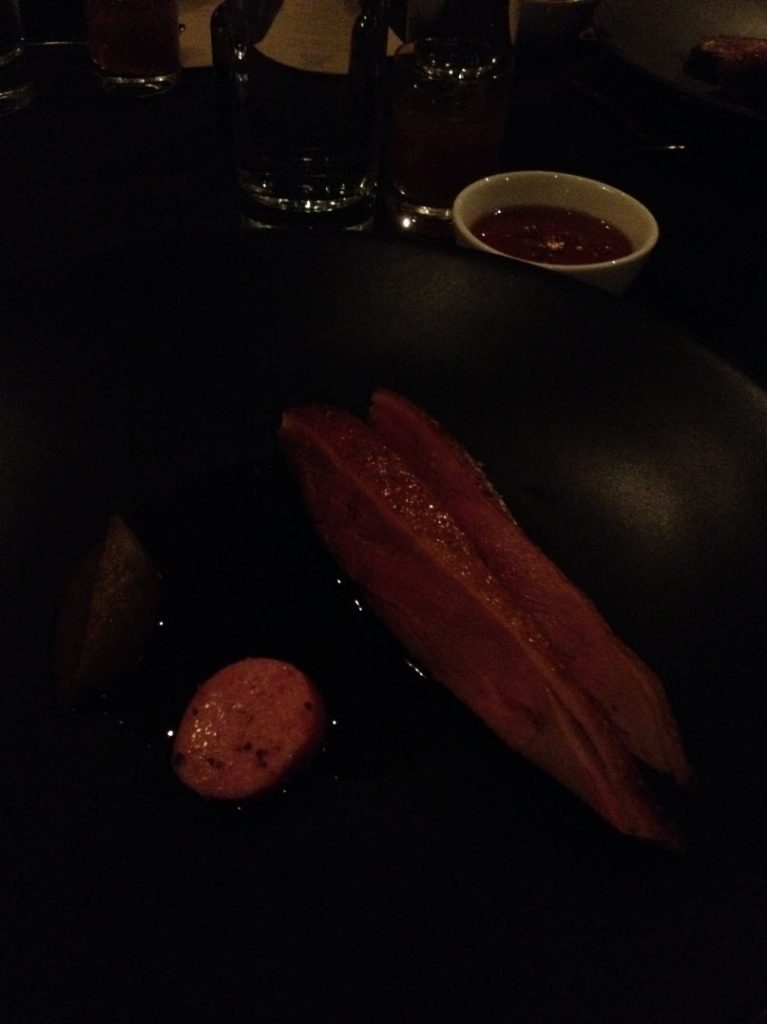 A little slice of juicy foie gras sausage came alongside slices of rare breast meat from a whole roast duck, and was served with a small pot of sinfully delicious whipped foie gras frosted with a gelee that included a Jack Daniel's  reduction – OMG. The whole plate was out of this world. Dessert (raw milk ice cream with beautiful accompaniments) and its paired Jack Daniel's' Single Barrel Select amaro-style cocktail were equally impressive.
In short, the evening was full of gorgeous flavors in the food and drink, each option paired beautifully and served creatively in a lively, friendly atmosphere by knowledgeable professionals – every server knew the answer to any question about the food. The end result: everyone came away with a heightened respect for the talents of the chefs and mixologists and the versatility of Jack Daniel's Single Barrel whiskies.
Tasting notes:
Single Barrel Barrel Proof – aromatic & smooth with notes of sweet brown sugar giving way to rich toasted oak and hints of dark spice. Drink neat or with a couple of cubes.
Single Barrel Rye – 94 proof makes this rye big and bold without overpowering. Ripe fruit flavors mingle with light toasted oak notes so the rye grain shines through with a rich peppery spice and pleasant lingering finish.
Single Barrel Select – Only 1 in 100 bottles reaches this elevation. Rich toffee and caramel notes touched with cinnamon. Significant body with layers of orange peel, cloves and gentle dusty lumber notes. Finely balanced among many integrated flavors with a moderately long finish and a soothing blend of sweet and spice.