The times are incredibly stressful as state governments begin declaring extensions to the stay-at-home orders. The COVID-19 crisis continues to have a profound impact as individuals and businesses struggle with how to respond. As a part of this new reality, many homeless shelters around the country have been temporarily shut down or had their services modified, leaving many without access to food and shelter.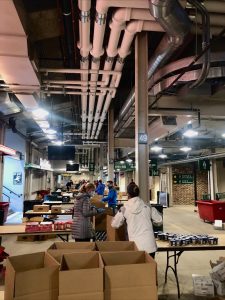 The Chicago Cubs and Wrigley Field are stepping in big-time to host Lakeview Pantry, and many Lakeview area residents are volunteering their time to help, reports 44th Ward's Alderman Tom Tunney. Thanks to Vince Fetsch for volunteering and for sharing photos from Wrigley Field , and thanks to Koval Distillery for procuring sanitizer for some of our senior housing facilities. You can support Koval's efforts, order sanitizer or request a donation here.
Meanwhile, Celebrity chef Art Smith's popular Windy City eatery Chicago q has launched an initiative to provide free hot meals to the homeless, hungry and healthcare workers who are working so hard to keep Chicagoans healthy. "Before the quarantine, the homeless had a place to go each day of the week to receive a warm meal. However, with many of the shelters now closed, there are many days where they have nowhere to go." states Fred Latsko, real estate developer & owner of Chicago q. "We are hoping to pick these days up until the crisis is over and the shelters reopen." Thus far, the restaurant has handed out more than 1,000 hot meals. Kudos, Fred Latsko and Chef Smith!
In addition to the city's homeless, the team at Top Nosh Hospitality** wants to do what it can to thank and support healthcare workers on the front lines fighting the COVID-19 pandemic. Hospital staff, paramedics and other have also been invited to pick up complementary hot meals from Chicago q.
The meals vary slightly week by week but all include a hearty helping of Chef Art Smith's signature Southern-inspired fare. For example, this weekend's menu will include:
Saturday, May 2nd – 4 to 6pm: Pulled Pork Sandwich, Side of Coleslaw, Carrot Cake Muffin, Bottled Water
Sunday, May 3rd, 4 to 6pm: Fried Chicken Sandwich, Side of Coleslaw, Carrot Cake Muffin, Bottled Water
** Chicago q, 1160 N. Dearborn St., is part of Top Nosh Hospitality, a Chicago-based restaurant group known for cultivating unique dining experiences filled with creativity and hospitality. Others in the group include La Storia, Blue Door Farm Stand, Blue Door Kitchen & Garden and Biggs Mansion.