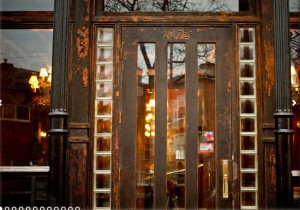 I'd been hearing about Frontier restaurant, 1072 N. Milwaukee, for quite a long time. I'd driven by it a few times and noticed it sat seemingly all by itself on an unprepossessing stretch of Milwaukee Ave. Guess that in itself made me tend not to want to rush over. But a friend liked the unusual menu they were featuring for Chicago Restaurant Week (CRW) so we decided to give it a try.
First, I was very surprised at the warm ambiance, the double-tall ceilings, the straight lines of handsome medium-toned wood columns and the generally spacious feel. But it felt cozy at the same time. I think the large, round chandeliers with straight-sided opaque hurricane glass conveyed a comfortable atmosphere and the carefully placed spotlights created pools of warm light rather than hotspots. Plus I think there was at least one fireplace. I liked the variety of seating options, too – long, tall tables where folks can face each other, bar seating, and regular tables.
The chef is New Orleans-born and you can see that influence in the regular menu. We both liked the same choices and wine pairings for the CRW menu, but also wanted to try their broiled oysters first. The oysters were fresh and the topping just crunchy and cheesy enough to satisfy.
The rabbit and frisee salad with fresh cranberries was set off nicely with delicate sprinklings of a balsamic reduction dressing. Just the right touch.
Next we tucked into a big haunch of smoked boar meat. I was delighted at how delicious it was. Seasoned with brown sugar and housemade spices, it had a beef-life texture but a darker flavor and came with a little bit of sauce-y juice underneath. I took some of the generous serving home, too, and I'd order it again anytime. The side of collard greens was nicely cooked and seasoned, and the little lardon-shaped chunks of chestnut gnocchi made a surprising and tasty side note.  When we asked our server about the lardons, she assumed we were asking about another item the chef uses often. So she went to the kitchen and brought us each a little terrine of their deep-fried bacon lardons. Nice.
Service was very friendly, if occasionally a bit lax. We had to ask the kitchen not to bring out the courses so quickly after each other so we could have time to enjoy the wine and savor the food. They graciously complied, and we were able to relax.
The sweets course of pineapple upside-down cake–a dessert that's a throwback to the 50s–was another surprise: a big, thick disk of baked sweet dough, almost like a super-thick, soft and slightly chewy cookie–great mouth feel–and served in its own little skillet. It was sparked with a few pineapple bits inside and surrounded by a luscious pool of creamy sauce. This is definitely not your grandmother's old standby. I'd order this again, too, any time.
The wine pairings were just right, and for beer lovers, it's nice they'd laid out beer pairings as an option. I love the fact that the beverage menu also contains Frontier's "whole animal service" menu. Yes, you can bring your whole family or work group or whoever and dine on things like smoked wild boar, alligator stuffed with chickens, goat leg, and more. You get family-style sides like 5-cheese mac, jalapeno & cheddar cornbread and other. Check it out.
The place was fairly busy for a Wednesday night, though it might have been extra diners taking advantage of the dying light of CRW. Anyway, it was a very comfortable place with very good food. Four stars all around. I'll be back.