You walk in to the dark-wood-paneled room and hear the strains of a Frank Sinatra song and notice the fresh gladiolas. You inhale the Italian cooking smells and get a warm greeting from the host/ess. People are helping themselves from family-style platters and bowls. It's gotta be Maggiano's.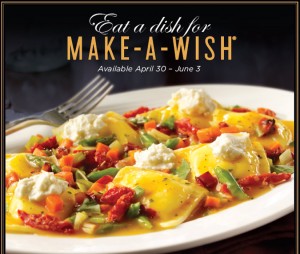 Chicago's downtown Maggiano's, 516 N. Clark at Grand, was the first to open nearly 25 years ago – there are 49 locations now. And right now all of them are participating in a double-barreled promotion called "Eat a Dish for Make-a-Wish."  They're featuring a unique, gluten-free pasta dish on two slightly different MaW menus. When you order any dish on these menus, Maggiano's makes a donation to Make-a-Wish. Nationwide so far, they've donated a total of $5 million. Read more on their Make-a-Wish blog.
The first menu, good until June 3rd includes these options:
SHRIMP & AVOCADO LEMONETTE –
PATRICIA'S CHEESE RAVIOLI – uniquely delicious gluten-free pasta with a lovely texture – hard to achieve with gluten-free. Loved the  Truffle Mascarpone cheese topping. The dish is named for Patricia because Maggiano's is sponsoring her wish to travel to Rome, Italy. ***This item comes with the "Take a dish for tomorrow" deal (see below).
GRILLED JUMBO SHRIMP – cooked just right, with arugula, lemon and Tuscan potatoes
CRÈME BRÛLÉE TRIO – absolutely lovely, chocolate, traditional and honey. Num to all three.
Drinks include "Wish Lemonade" (peach and pomegranate infused) and a potent and tasty white Moscato-based Sangria flavored with pineapple, strawberry and cantaloupe and spiked with vodka. These are both excellent; the fruit flavoring is just enough to make it refreshing without being too sweet. Watch out for the Sangria; it does have a kick!
Available June 4 through July 8 is a similar menu except the shrimp will be served  with sweet corn relish and honey glaze, and gluten-free Flourless Chocolate Cake replaces the crème brulée trio. By the way, all Maggiano's chefs are more than happy to discuss special diet needs with any guest, and they go out of their way to accommodate whatever you need.
***Maggiano's offers a really good deal that I didn't know about. Any guest who orders a pasta dinner gets the option to take home another order of pasta to eat at home the next day! Talk about value for your dollars. This is a painless way to donate to a worthy cause and enjoy some good food – two days in a row!
Also, be aware that Maggiano's has lots of dark-wood-paneled rooms for private parties, business meetings and banquets. I've been there for a number of those events and they always do a great job.