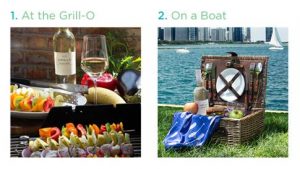 August is the beginning of the end of summer, but it's still a month full of holidays.  One of them is Single Working Women's Week (this year July 31 to August 6). This holiday gives single working women a chance to get together and officially celebrate their unique contributions to the world. And what better way to do that than a picnic! August is also National Picnic Month – dedicated to the joys of coming together with friends and family. Everybody loves a picnic, but it sure can be a lot of work. Try something new this year by hosting a picnic potluck. It's a great way to cut down on prep work and save money while spending time with friends.  Here's a suggested task list:
Someone bring the wine
Someone bring the cheese-cracker-salumi plate
Someone bring fresh fruit or a seasonal vegetable/salad
Someone bring the main dish
Someone bring the blankets and music
Someone bring extra wine
You will not go wrong for your summer picnics by choosing a crisp Sicilian white wine. Grillo, for example, which is blended with the Catarratto grape that's native to Sicily,  makes the perfect addition to your spread for under $20. Its unique flavor pairs with any cheese or summer fruit. Read all about Grillo and other lovely WinesofSicily.com.