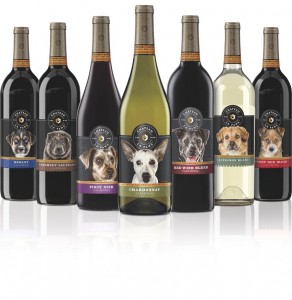 If you haven't heard of this group and you love dogs–and wine–you're in for a surprise. Chateau La Paws (CLP) supports no-kill shelters all over the U.S. and to support its work, sells some very good wines from the folks at Diageo Chateau & Estate Wines (DC&E). Even more fun, they put pictures of their still-need-a-forever-home dogs on all the wine labels!
And just recently CLP announced the release of four new Sonoma varietals (Cabernet Sauvignon, Merlot, Sweet Red Blend and Sauvignon Blanc). Now available nationwide, the new bottles feature 28 additional North Shore Animal League America (NSALA) rescue dogs. The new offerings join Chateau La Paws Chardonnay, Red Blend and Pinot Noir, launched earlier this year. I was sent a sample and can say their new Cabernet Sauvignon was light but still complex enough to go well with almost any food.
At the checkout of my local Binny's the other day I was surprised when the young lady remarked that she liked my headband with paws all over it. I laughed and told her it was from Chateau La Paws and she said, oh, yes, I always buy wines from them as gifts to bring to friends' houses for dinner–a regular CLP customer.
Both CLP's Chardonnay and its Red Blend received Gold medals at the 2015 Los Angeles International Wine Competition with the latter, in fact, receiving the honor of "Best in Class." Impressive. Along with well-respected wines, the official national partnership with NSALA helps shelter dogs find a chateau of their own. Chateau La Paws encourages wine lovers to always support rescue adoption.