We've been lucky to be asked to taste a few products to see if we want to recommend them to our readers. Here are some that we are happy to tell you about. Many of these items would also make terrific gifts for the right person on your list. And if, like me, you waited too long to buy, make a pretty coupon for when the product does arrive!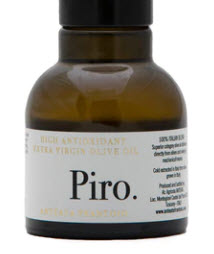 Piro Olive Oil from Tuscany
Recently sampled a product from the Piro Olive Oil company. We weren't sure what to expect from Piro, but our taste buds and tongues alerted us instantly with the first bite of a salad we dressed with it.
Lighter. Zingier. Fruitier than the olive oils we tend to use for almost everything in our kitchen. Like a wake-up call for the unadventurous or for those who've received gifts of unique olive oils in the past and didn't take the time/effort to test them out before they got too old (guilty).  :- (
The company writes of Piro as suitable for cooking. Good to know so you don't need to be afraid to heat it up. Seems like it'll do a lovely job with salmon or other fish. But we especially loved it on our salad. Found it just as delightful on a heavier salad (love it on this green bean and potato salad). We're thinking it might enhance even a sweeter dish like a fruit salad. This is a truly versatile, beautiful olive oil. And it's also touted as high-antioxidant. Oh, what is not to love? Try it! SRP – $18 for 100ml.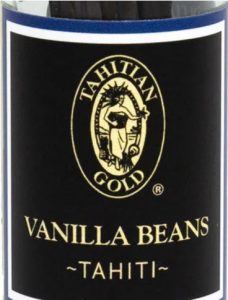 Tahitian Gold Vanilla products
Many of us grew up with that little bottle of grocery store vanilla extract – in many cases labeled "imitation" because the real thing was too expensive. We may know about vanilla beans but never bothered to learn how to use them. Happily we just learned that Tahitian Gold makes a bevy of vanilla products that promise to help your baked goods and desserts shine a little brighter.
Now you may or may not know that somehow, during the pandemic it seems, vanilla bean paste has become a prominent item on American cooking promotion sites. It started regularly appearing as a preferred ingredient in cookie, cake and dessert recipes but perhaps, like many of us, you haven't tried it yourself yet. It's not  stiff, but rather  a creamier version of extract. We really enjoyed using Tahitian Gold's version – like we were using a more luxurious product – and we detected a noticeably richer flavor than  grocery store versions. SRP ~$22.50/4 oz.
You can also dig into Tahitian Gold's Vanilla Sugar to top your cakes and cookies or mix in your plain Greek yogurt (num!). Or use their ground vanilla beans or vanilla extract to give your desserts the extra oomph of real vanilla products made with imported vanilla beans and designed to deliver maximum flavor even with  smaller quantities. Their vanilla extract is reasonably priced and available in several sizes. Prices on other items reflect the greater amounts of time and care that must be devoted to producing them, but here again the company offers a large size and a smaller, more affordable size. Visit their site for more information: Tahitian Gold. SRP  ~$18.50 for 1 Tahitian vanilla bean
If you haven't done much research into the differences in vanilla products, here's an excellent article on the subject from the New York Times (may need subscription).
Parma! Vegan Parmesan by Sister River Foods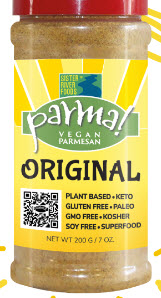 I was excited when I first learned that nutritional yeast made a great topping for popcorn. I'd only been enjoying that combo for about six months when I then discovered something even better. Recently learned about a woman-owned company called Sister River foods that makes products based on nutritional yeast but finessed with other ingredients. Their Parma! Vegan Parmesan is delicious. It's a combination of nutritional yeast, sunflower, seeds, walnuts, Himalayan crystal salt, and hemp seeds. It has more nutrition and a much more complex and umami flavor than just nutritional yeast.
The company also makes a nut-free version of its plant-based Parmesan – the Garlic Basil version. And oh my goodness, they also make a jalapeño-bacon-flavored nut-free Parmesan (I love jalapeños!). And more. And how about this one? Garlicky Green Parma! has Italian herb flavor with some kelp and some pumpkin and sesame seeds for added nutrition. Who knew you could get so much good nutrition in a super tasty topping that's actually vegan which – besides working for keto, vegetarian, and every other diet type – further translates into good for the planet. 7-oz sizes go for ~ $12.