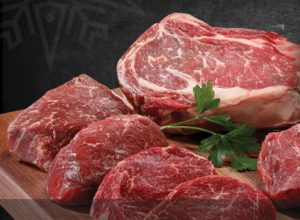 If you haven't yet experienced the beauty of Wagyu beef, here's a suggestion. Get some soon! Snake River Farms makes fabulous steaks out of this wonderfully marbled meat, and you don't have to be a genius to cook them perfectly. It's a somewhat pricey treat, but well worth it if your budget is up for it.
Try some SRF Wagyu steak with one of the fabulous wines we've been writing about lately here and here and here. We actually chose to try the review samples with a champagne tasting we put together at home and were thrilled with the rich flavor of the meat. We served them grilled on a charcoal fire – some plain and some with the tasty rub that came with the meat – both excellent.
Some of the country's most renowned chefs like Thomas Keller, Wolfgang Puck and Michael Mina and lots of popular restaurants around the county use SRF Wagyu steaks. And now they've decided to offer their selection of meats  online. This season's new offerings include a Curated Steak Box from James Beard Award winning Atlanta chef Hugh Acheson.
The Snake River Farms gift collection includes:
Hugh Acheson's Curated Steak Box with 2-8oz American Wagyu filet mignon, 2-6oz American Wagyu ribeye filet, 1 Lodge skillet, 1 Mercer saucing spoon, 1 Bragard kitchen towel, Jacobsen's Flake Finishing Salt and Hugh Acheson's Steak Cooking Guide. $199
American Wagyu Steak Flight includes 2-6oz American Wagyu filet mignon, 2-6oz American Wagyu ribeye filets, 2-6oz American Wagyu sirloin filets, Espresso Brava Salt, Snake River Farms hat and a Cooking Guide. $169
American Wagyu Bone-In Steak Collection includes 2-12oz American Wagyu bone-in filet mignon, 2-20oz American Wagyu bone-in New York strips, 2-28oz American Wagyu New T-bones, Espresso Brava Sea Salt and a Cooking Guide.  $350
You won't be sorry, people.