They've been growing grapes and making fine wines in Romagna in Italy since the time of the Roman Empire. All the wines from this area are DOC (Controlled Designation of Origin) or DOCG (Controlled and Guaranteed Designation of Origin) – designations granted only to the best certified quality wines in Italy.  Romagna produces about 20 million bottles of this certified wine and exports 35% of it to other countries.
Romagna is known for its deep, dark Sangiovese reds and many white wines – from dry to aged dessert types. Since most of the winemakers are very small, they needed to band together to promote themselves. So 250 small winemakers and 200 partner wineries worked to form Consorzio Vini di Romagna. They brought some of their fine wines to Chicago recently during the Simply Italian Great Wines tour 2014.  Below are four of their white wines and one red I recommend:
Whites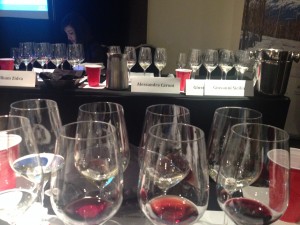 4 stars – Romagna Albana DOCG Secco Progetto I 2013 – from Leone Conti Societa' Agricola. Lovely white wine, dry and warm with aromas of yellow fruit, golden apple skin, wet rocks, oak and vanilla. Good with starters, first courses of fish and roasted white meats. Four stars and a great value at ~$15. This wine won over a Sauterne in a blind taste test.
4 stars – Romagna Albana DOCG Secco I Croppi 2013 – from Celli SNC di Sirri & Casadei Societa' Agricola.  Rich, round, fresh, elegant with aromas of yellow pulp fruit and scents of apricot and melon. Four stars and another great value at ~$15. Good with noodles, grilled fish and white meats.
4 stars – Romagna Albana DOCG Secco Alba Della Torre 2013 – from La Sabbiona S.S. Azienda Agricola. Dry, warm and harmonious, with a finish of burnt almond. This is a beautiful wine with intense fruity and floral notes and a whiff of peaches. Another great value at ~$15. Good for starters, fish, especially grilled fish, but really it would go well with your whole meal.
5-star beauty – Romagna Albana DOCG Passito 2010 – from Bissoni Raffaella Alessandra Azienda Agricola.  Creamy, slightly sweet, but rich and complex, with persistent tannins and aromas of apricot, dried figs, almonds, ripe dates and scents of rich fruit and spice mixtures. It's a dessert wine, so go ahead and splurge at $45 retail. Serve it with almond pastries, and/or mature Pecorino or blue cheeses with honey or jam.
One red I recommend is the Romagna Sangiovese Doc Superiore Riserva Nonno Rico 2010 from Azienda Agricola Alessandro Morini "Poderi Morini." Delicately soft, smooth and fresh with notes of thyme and oregano along with scents of plum, cherry, vanilla and licorice with a finish of ripe rose. Doesn't it just make your mouth water? A good value at ~$20. Serve with filet of beef or other rich meats.